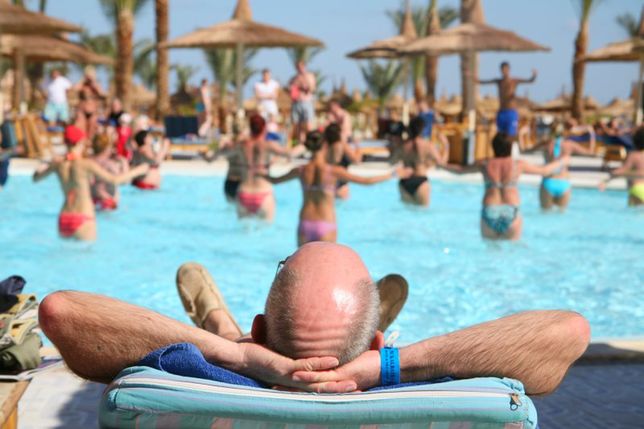 What to take to Egypt.
Documents and photocopies
You have to remember about the passport and its photocopies, stowed separately in luggage. A photocopied document can be useful in the event of loss of the original and will shorten the waiting time for a duplicate. It is also good to take passport photos and photocopies of other documents. Sometimes ISIC ID cards come in handy, for which you can (though not always) get a discount on admission tickets.
Clothing
Women should dress "in layers": longer skirt and sweatshirt with long sleeves, which can be put on the undershirt. It is also worth taking a thin one, cotton scarf, protecting against dust and sun. Men not always and not everywhere can wear short shorts: pants will be the best, to which the legs are attached. Depending on this, how are you going to spend your vacation, appropriate footwear should be brought. For a stay at the beach and in the hotel, light sandals and flip-flops are enough, but for the desert it is better to take comfortable sneakers or shoes for mountain hiking. Remember to wear sunglasses, headgear and sunscreen (waterproof) with filter. In winter, you need to pack warmer clothes and a raincoat or umbrella.
Film materials
Most tourists take digital photos, so it only cares about charging the batteries for the cameras and recording the pictures taken on a CD. This service is usually offered by larger laboratories in cities. There, who photograph on traditional materials, they should bring them with them, because it is not recommended to buy the local film (are out of date or stored incorrectly).
Useful items
Many people do not take the alarm clock on their way today, because he has it in his cell phone. Another useful thing is the sink plug, which is sometimes not even found in expensive hotels (it can often turn out to be too small, but it can always be enlarged, wrapping a plastic bag). A flashlight is very useful in dark tombs or recesses of temples, where the reliefs are barely visible. People who like to watch birds and animals should not forget about binoculars: it's definitely a better thing than a telephoto lens, but this one can also come in handy. Photographers should get enough cards for their digital cameras. If someone does not want to fight mosquitoes, he should remember about the mosquito net and the insect repellent. Even in summer, a sleeping bag will come in handy, when you want to go to the desert or to the mountains.
In cheaper hotels it is better to sleep in your own bedding, than in the so-called. "Pure". Late fall, in winter and spring it is good to have something rainproof and a warm sweater. Solid footwear will be useful at any time of the year, and not only in the mountains. If someone is a light sleeper, should take ear plugs. Family photos will be useful to start the conversation: then even the lame English of both sides seems easier to understand. It is good to have an extension cord with many plugs, because then it's easier to top up the cell, batteries for the camera or camcorder (electric current is alternating, about tension 220 V and frequency 50 Hz; the sockets are round, on two pins, European type – although for some strange reason they are sometimes too narrow, to fit European plugs into them).
Border crossing
Going to Egypt, you must have a valid passport (at least three more months) and a tourist visa (unless you are going with an organized group). The passport is required when checking in at the hotel, money exchange and during police checks.
The visa can be collected at the Embassy of the Republic of Egypt in Warsaw or at the airports in Cairo, Luxor and Hurghada, by paying 15 $ (it cannot be obtained at land crossings and in Aswan, Suez and Nuwajba); is valid for three months from the date of issue and entitles you to stay in Egypt for one month.
If you do not have a multiple-entry visa, you can obtain a re-entry visa at most passport offices, valid until the expiry of the normal visa and its extensions. A single / multiple re-entry visa costs accordingly 10/14 EGP (staying in the country for a longer time may result in a fine of the amount 60 EGP at leave). Tourists staying in Egypt longer than 12 weeks cannot return to Poland on a charter flight.
Upon arrival in Egypt it is necessary to check in within 48 hours at the relevant passport offices. In hotels this is done by the staff.
Customs regulations
Egyptian customs regulations do not differ from those in force in Europe. Export of larger quantities of goods without the consent of the customs authorities, e.g.. subsidized drugs, may threaten their confiscation, as well as high fines. There are no restrictions on foreign exchange, however, during the tourist stay, their value may not exceed the amount specified in the customs declaration.
Clothes are duty free, personal things, video cameras, cameras, magnetofony, computers (one piece), binoculars. There is no obligation to report valuables at the border, however, including them on the customs declaration will help in the event of their disappearance. You can bring to Egypt: liter of alcohol, 200 pcs. cigarettes and 25 cigars; bring in or take out as much as possible 10 thousand. $ and 5 thousand. EGP There is a death penalty for attempting to smuggle drugs. It is forbidden to remove parts of the coral reef, animal skins and antiques.
Insurance
It's worth getting an insurance, especially, that insurance prices are not high, and the consequences of the accident can be very severe.
For medical assistance, medicine or hospital stay has to be paid, usually quite a lot. Besides medical problems, there can be other unpleasant adventures – loss of luggage, unintentionally causing damage to another person, whether the need to shorten the stay or cancel the trip. It is impossible to predict this, but you can insure yourself against the financial consequences of unfortunate events.
There are several types of insurance to choose from: from the consequences of accidents (NW) and medical expenses (KL), loss of luggage and the cost of canceling the trip.
Insurance of treatment costs (KL) guarantees the reimbursement of costs of direct medical assistance, transport to hospital, further hospitalization, research, treatments, surgery and medication, and the cost of returning home.
The policy ensuring reimbursement of expenses related to dental treatment is more expensive than the standard policy 50-150%. There are also policies that guarantee compensation in the event of loss or theft of luggage, however, you should check, is it really worth it. Some cards (e.g.. ISIC, Visa credit card) guarantee insurance against accidents or medical expenses. Contributions for people practicing extreme sports (scuba diving, windsurfing) grow from 150-200%, and for mountaineers and cavers, Fr. 300%. A medical policy may have two options: treatment costs refunded during treatment abroad or reimbursement only after returning to the country. In the latter case, you need to get funding, and otherwise keep all receipts for settlement.