Tomb of Amenhotep II (KV35)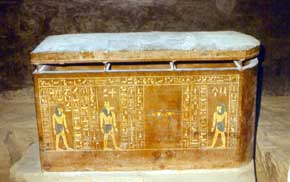 Tomb of Amenhotep II (KV35)
At the end of the valley, behind Horemheb's tomb, there is the tomb of Amenhotep II, one of the deepest in the Valley of the Kings It was built for Amenhotep II (XV w. p.n.e.), but it became famous primarily as a tomb-hiding place, where in 1898 r. Victor Loret has discovered hidden under Pinojim's reign (XXI dynastia) mummy. In addition to the mummies of Amenhotep II, there were mummies of Thotmes IV here, Amenhotepa III, Merenptaha, Setiego II, Settlement, Ramesses IV, Ramesses V and Ramesses VI. Amenhotep II was the son of Thotmes III and Queen Meritre. At the end of his reign, his father allowed him to co-rule. This militant and cruel ruler conducted numerous military campaigns in Asia. He moved the southern borders of the country as far as Napata. He extended the temple at Karnak and erected a mortuary temple north of the Ramesseum.
He also worked in Heliopolis, Hermopolis, Copts, in the Theban district and in the south in Al-Qab, on Elephantine, on Sehel, w Kalabszy i Buhen. Amenhitep II died at the age of 45-50 years.
The tomb consists of a series of corridors and halls. A corridor with stairs leads to the double glazed room, and from there the road leads to the pillared vestibule, from where the next corridor comes out of the side wall, and the axis of the tomb turns at right angles. The stairs lead to the third corridor, to the hall with six pillars and four annexes. There are images of deities on the pillars. The king stands before Osiris, Anubisem i Hathor, and golden stars shine on the vault of blue. The walls are decorated with fragments of the Book of Amduat. The paintings imitate a papyrus scroll: cream-orange background and black and red contour drawings. The four annexes look like those in the tomb of Thotmes III. In the western annex, Loret found royal sarcophagi with mummies. Between the sarcophagi there was a papyrus with an extract from the Book of Caves and many small items and amulets. Behind the last pair of pillars of the room there is a burial chamber with a red quartzite sarcophagus, which contained the intact royal mummy.
Perhaps the greatest tomb in the Valley of the Kings, belonging to Seti I. (KV17) Unfortunately, it is constantly closed due to restoration work (from 1991 r.).
He suffered enormously from the rise in groundwater levels and the moisture in the air from tourists' breaths. Some of the conservators even say that it is permanently closed and copies are made for tourists.