Pyramids in South Saqqara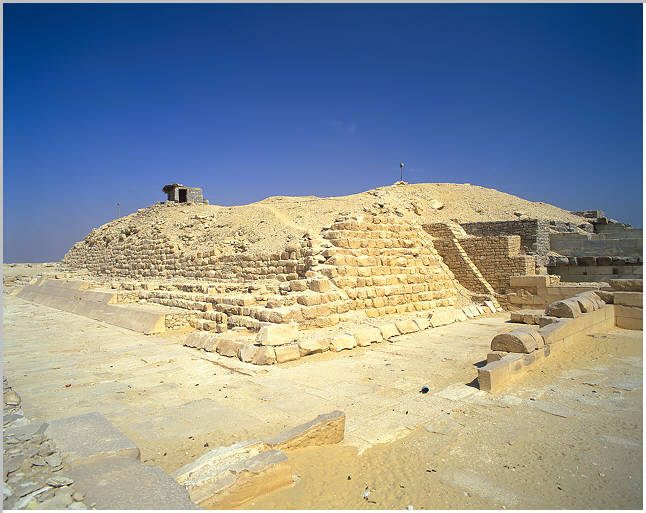 Pyramids in South Saqqara
Pyramids built by the rulers of the VI Dynasty in the necropolis, today called South Saqqara, they look like mounds of rubble. From Pepi I's pyramid (VI dynasty), the son of Pharaoh Teti I and queen Iput I., the name of the ancient capital of Egypt comes from – Memphis. The remains of the Merenre pyramid dominate the nearby hill (VI dynasty), successor of Pepie I.. When Maspero looked inside her, in the burial chamber he found a black granite sarcophagus hiding a mummy – perhaps Pharaoh Merenre. Situated on the edge of arable fields, high on 25 m the pyramid of Pharaoh V from the Dynkare-Isesi dynasty, the locals call el-Shawwaf ("news, war pyramid "). During the excavations in the years 50. XX w. the pyramid of King Djedkare-Isesi's wife was discovered on a nearby hill.
South of the pyramids rises the Pepi II pyramid complex (VI dynasty), unearthed in years 30. XX w. and intended for later (it is not known when) reconstruction. Two ramps lead to the lower temple. The ceiling rests on rectangular pillars. From the lower temple, a ramp approx. 400 m, covered with bas-reliefs, leads to a mortuary temple decorated with beautiful carvings. South of the temple there is a small auxiliary pyramid. The main pyramid was built from blocks of the local limestone, but in a slightly better style than the surrounding buildings. On the western wall, the remains of white limestone veneers have been preserved. Originally the facility had 52 m in height, square base in length 76 m, and the inclination angle of the walls was approx. 53°.
The pyramids of royal spouses are adjacent to the complex.
One of the pharaohs of the Transition Period was Iby (VIII dynasty). His pyramid is located southeast of the lower temple of Pepi II. The Shepseskaf mastaba was built to the southeast of the pyramid of Pepi II, syna Menkaure (IV dynasty). The Arabs call her Mastabat el-Faraun - the pharaoh's mastaba. It was gigantic in shape, rectangular sarcophagus (100 me and 72 m; height 18 m) and resembled the tombs of the kings of the 1st and 2nd dynasties.
It is so big, that you can see it from the entrance to the Red Pyramid in Dahsura.
One and a half kilometers from the mastaba rises a group of three pyramids.
The northernmost pyramid of Chendjer, rulers of Dynasty XIII (Second Transitional Period). The core is made of mud brick. The white limestone veneer was broken in the time of Ramesses II (inscription).